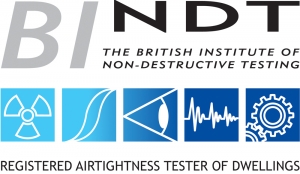 Air Pressure Testing
Also described as Air Permeability Testing, Air Leakage Testing and Air Tightness Testing, we deliver a comprehensive air pressure testing service with no hidden extras. We provide added value by helping our clients to achieve ongoing improvement based on practical guidance and advice before, during and after air tightness testing.
What is Air Permeability Leakage Testing ?
The Government has an ongoing commitment to reduce CO2 emissions from energy consumption. Many of the buildings constructed today, commercial, industrial and domestic, consume more energy than necessary. The benefits in making your building as air tight as possible include a reduction in CO2 emissions, increased comfort levels for building users, and substantial savings in energy costs.
The air-tightness of a building is known as its 'air permeability' or leakage rate. Air leakage can occur through gaps, holes and cracks in the fabric of a building which are not always visible. This air leakage affects the building's performance and is now firmly enshrined in Part L of the Building Regulations (The Conservation of Fuel and Power).
What the Building Regulations says about Air Leakage Testing ?
If your building is a dwelling or if it's a non-dwelling and exceeds a certain size, you will require an air leakage test pass certificate before you can hand over to your client. Air testing has been a requirement of Approved Document Part L for almost five years. The revision which took effect on 1 October 2010 has increased the complexity of test regimes and the number of tests needed.
How is Air Leakage testing carried out?
Air leakage is measured by using a fan pressurisation system. Our fan is installed in the doorway, all external openings are closed and all internal openings are left open. Once the fan has pressurised the inside of the building, the pressure difference is measured and compared to the external ambient conditions. The test is performed by recording a range of readings, including air pressure, within the dwelling and corresponding airflow through the fan to maintain that pressure.
All our air pressure tests are carried out in accordance with ATTMA (Air Tightness Testing and Measuring Association) TS1 Issue 2 to BS EN 13829 method B standards, and all our test engineers are trained and accredited members of the BINDT (British Institute of Non Destructive Testing).
What are the most common Air Leakage infiltration paths?
Achieving the required air permeability relies on identifying, creating and maintaining a continuous air barrier. Historically, for buildings using traditional construction methods, the air leakage paths have been relatively obvious and easy to address (i.e. mastic sealing and/or expanding foam). These include:
Gaps between elements of the buildings, i.e. floor to wall and/or wall to roof, which create a small path, but potentially around the entire perimeter of the building. Most often in dwellings this is a gap between the underside of the plasterboard/skirting and the floor, while in non-dwellings it is a break in the continuity at the eaves detail (between the top of the wall and the underside of the roof)
Gaps between different parts of the air barrier, e.g. the joint between membranes, boards, etc
Gaps around 'penetrations', i.e. windows, doors, services, etc. This problem may often be masked by suspended ceilings, bath panels, kitchen units, voids and plasterboard where the dot and dab creates a small cavity that allows air to bypass any surface sealing and escape through larger openings through the structure
Gaps around 'awkward' details, i.e. where the air barrier is interrupted by complicated structural members or elements of the fabric. These require attention at the design stage to identify ways of minimising these interruptions or introducing methods for bridging them to maintain continuity.
Get a FREE quote
Upload your plan here for a free no obligation quote
For a free air-leakage test quote. Just upload your plan here and state Air-Leakage Test.
Get a FREE quote